There is something to suit everyone's dining needs here at the West Coaster. From a Tasmanian cheese platter and a glass of wine in our Lounge Bar to a full 3 course buffet in Prospector's Restaurant our aim is to provide wholesome, hearty meals for you to enjoy. Please note that, according to seasonal demand, not all options are available daily. Please enquire on check-in.
* Room Service Continental Breakfast is available every day.
* Room Service Evening Menu is available from Monday to Saturday. (Closed Sundays)
* Pizzas & Takeaways Available Nightly
(Subject to Seasonal Demand)
Room Service & Pizza's
For those who prefer to dine in their room a Room Service menu is also available along with a wide variety of pizzas all cooked to order and delivered to your door. A copy of our menus has been included for you but please note that all dining options are subject to change at any time. For further details please contact the Motel.
Breakfast
Room service continental delivered to your door is available daily. Other options include continental buffet in Prospector's restaurant, cooked to order and a fully cooked hot buffet with scrambled eggs, bacon & sausages.
Lunch
Although not regularly open for lunch we do offer a light snacks menu for those wishing to stay at the Motel for a quiet day. We also cater for workers and tourist that require something to take with them on their day in a lunch pack consisting of fresh sandwiches and a choice of a variety of snacks to for their day of departure. Prior days' notice needed for this service.
Dinner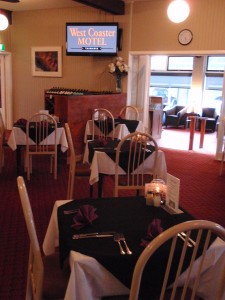 Prospector's restaurant offers a wide variety of options for your dinner dining needs. Our a la carte menu provides generous, wholesome, home-cooked meals including all the favorites such as Chicken Parmigiana, Scotch Fillet Steak, Roast of the Day and our popular Jumbo Combo. Our Buffet Dinner is also a favourite with tourists and locals and consists of soup, salad bar, hot dishes with lots of vegetables and a dessert buffet. You can even enjoy the best of both and order a main from the menu which will come freshly cooked from the kitchen with crunchy chips then help yourself to the soup, salads, vegetables and desserts, all included with your main price!